Cracker the Farm Dog Managing the Turf Business
08th Aug 2018
Cracker keeps an eye on the progress of the tractor bringing the next pallet of Sir Walter DNA Certified to be loaded onto the truck at Rivendale Turf.
He even helps to tie down the load!!
Here at Rivendale Turf, we are proud to partner with Lawn Solutions Australia; a group of locally owned, family operated turf farms, working with our local communities.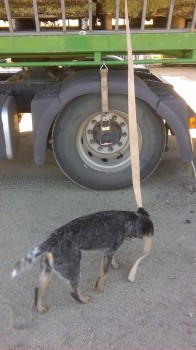 click for larger image